Purple Passion
©BamaVamp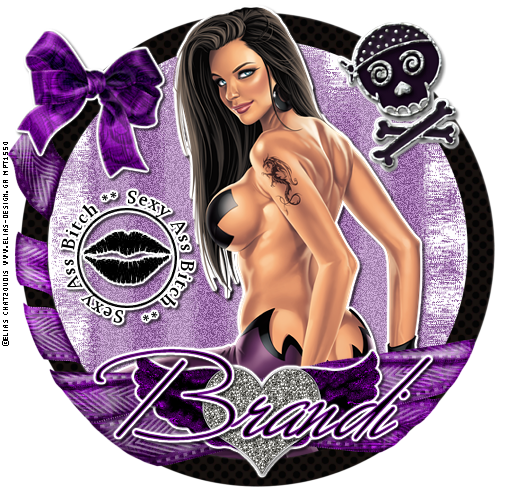 For this tutorial you will need the following:
Vix mask #197, find it HERE
Eyecandy 4000 Gradient Glow(optional)
Brush of your choice (optional)
PTU Scrap Kit called Night Scene from Jo, you can find it HERE
Tube of your choice. I am using the arwork of Elias Chatzoudis, you must purchase a license from mypsptubes to use the same tube.
Find the elements from the scrap kit you wanna use, as well as your psp tube and open them up in PSP.
I have used BeautifulBow, MetalSkull, WingedBlingHeart, and WrapFrame2 from the kit.
Create a new canvas 500x500 white background. Add a new raster layer and floodfill with a color that corresponds to your tube.
I used #6e008e. Find the Vix mask and apply to your colored floodfill layer, then merge group.
Go to Adjust...Add Noise..Uniform at 35 percent with Monochrome checked.
The rest is basically copying and pasting. Copy n paste your frame to your new canvas, as well as your main tube,
and any elements you are using and place accordingly. I added a Sexy Ass Bitch brush as well.
I added a gradient glow to everything but the frame with the settings of Glow Width 3.00 and under color set it
to the Fat Setting and apply.
I also added a small drop shadow to the same layers that I added the glow to. I used settings of 2 2 70 2.89 black.
Add your name. I used the same Glow and Drop Shadow as before.
Save your work!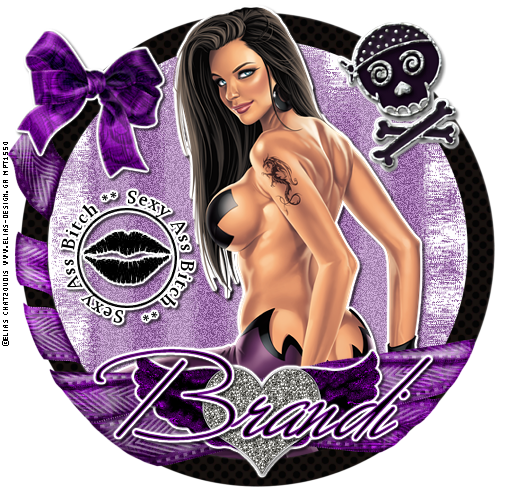 This tutorial was written by BamaVamp on 6/17/09.
Do not copy nor translate this tutorial.
Contact me for usage information.

Any likeness to any other tutorial is purely coincidence.